Every Child Deserves the Opportunity to Succeed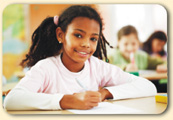 Every Child is unique and as parents and educators we understand that children learn in different ways. Unfortunately many traditional styles of learning and methods of instruction do not work for every child and often leave children of certain cultures at a disadvantage. At Educational Dynamix (EDDY), we work with Parents and Educators to create innovative and engaging programs to help develop the whole child.
Educational Dynamix (EDDY), Inc. is an educational services firm that focuses on the learning and development of educators and children through innovative and engaging programs and services. EDDY is a non-profit organization located in metropolitan Atlanta, Georgia.
We make math fun!
Through the program of Musical Mathematics, we provide children with sound, meaningful methods for learning mathematics that prepare them to be successful on standardized tests and more importantly successful at the next grade level.
Other program objectives include providing parents with support and mathematical knowledge that promote math learning for children and a support system in informal education settings that allow educators and parents to be successful in teaching children.
NEW BOOK - The Chubbs
A Free Black Family's Journey from the Antebellum Era to the Mid-1900s
The book provides an examination of The Chubb family through historical records and family dialogue beginning in the mid-1700s to the mid-1900s. It is a compilation of five years of research.